They say that April showers bring May flowers, but that doesn't make dull rainy days any easier to bear. My secret? Fun rain boots!
I had never really thought about rain boots as they always seemed bulky and drab. My attitude changed when I was in New York and found these amazing alligator skin imprinted Kenneth Cole rain boots. They were an easy purchase and have become a spring (and fall) staple for me when I need to go out and don't want to wreck my heels.
Since there are probably quite a few rainy days ahead, I thought statement rain boots would be a great theme for this week's Weekend Deals feature (formerly known as Saturday Shoe Sales).
There's some really great rain boots out there right now and my favorite has to be these Carnaby Snake boots from Hunter on the British Kurt Geiger site. I specifically mention the UK site as you won't find them on the US version of the site. They'd be a bit of a hassle to order if you're in the US with price conversions, but they're so amazing I needed to highlight them!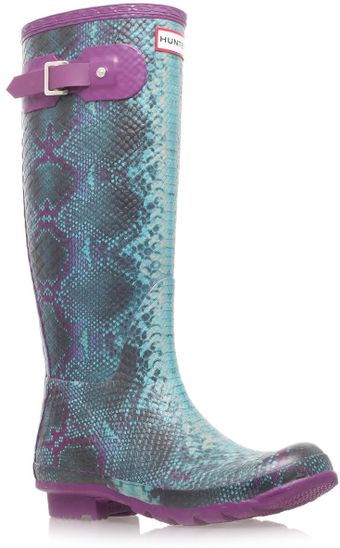 Hunter Carnaby Snake $207 $81
Rain boots come in such a great variety of colors, patterns, and styles now there is no reason to ever let your regular shoes see a puddle. I've curated some of my favorites from the virtual sale racks that you might want to add to your shoe closet for spring. Happy Shopping!
| | |
| --- | --- |
| | |
| | | |
| --- | --- | --- |
| | | |
| | | |
| --- | --- | --- |
| | | |
| | |
| --- | --- |
| | |
| | | |
| --- | --- | --- |
| | | |